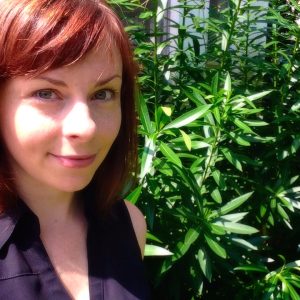 In 2004, Monica graduated with an M.F.A. in Poetry from the University of Idaho, Moscow, where she forged lasting relationships with her colleague Tina Mitchell and her thesis advisor Ivan Castaneda. Together they developed the nonprofit organization im-possible, a deeply ambitious design think tank and policy-driven research institution that supports and facilitates innovative theoretical and achievable design solutions to concrete problems necessitated by our posthuman condition. In 2015, Tina and Monica co-founded The Turnip Truck(s): an im-possible publication, for which she is now Poetry Editor. As a transdisciplinary forum for discourse, The Turnip Truck(s) is an evolving graphic landscape for essayists, poets, artists, cultural theorists, critics, and commentators who are interested in the dialectics of the human and its environment(s).
Originally from Southern California, Monica live in New Orleans, LA. She is an Assistant Professor of English at Delgado Community College. In addition to serving as Chair of American Sign Language Studies, ESL & Foreign Language, she teaches writing and literature.
As a poet and professor, Monica is interested in the role that language plays in mapping place and time, in designing culture and identity. She is interested in how the body and mind make meaning, and how, then, we manifest that meaning not only as utterance but also as image and architecture that people cross borders to experience. For her, language is the first tool of design and she is drawn to the nebulous space beneath it from which infinite possibilities can emerge.
Monica Mankin makes her residency at Can Serrat during the month of June 2023.