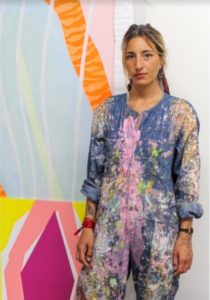 Yezica Tutic was born in 1987 in Buenos Aires, Argentina, making her the first generation born there, from a Yugoslavian immigrant family.
Tutic has been working and exploring different art forms since the young age of 4.
Tutic began her formal art training at the age of 6 with Maria Ignacia Wügner, followed by workshops with Marcela Burgos. She also studied with Jorge Gianco and became his assistant at 18.
In 2007, she enrolled at the Argentinian National University of Art in Buenos Aires, double majoring in Painting and in Scenery and Costumes. During her final year at UNA, she began a 2-year-long clinic with Tulio De Sagastizabal, an internationally acclaimed Argentinian abstract painter.
Throughout her studies, she assisted contemporary Argentinian artists, including Mariano Ferrante, Ines Raitieri, and Sylvia Rivas.
Shortly before she enrolled in a graduate program of combined artistic languages at UNA in 2013, Yezica took a short trip to New York City. That life-changing experience inspired her to go explore new horizons. Therefore, she paused her graduate studies and left Buenos Aires to move to New York City. Now she works and lives in Brooklyn, New York. In her four years living there, she worked assisting Canadian artist Bradley Hart and enrolled in ceramic courses and screen-printing in Brooklyn. She has exhibited her work in different solo and group art shows in several galleries, artistic institutions, and warehouses. She also spends countless hours in her studio (in Bushwick) developing and investigating different ways to express herself artistically while she continues to educate and push herself forward to making an impact in the art scene of New York City.
///  http://www.yezicatutic.com – https://vimeo.com/user14757631  ///
Resident in Can Serrat from the 01 to 31/05/2019