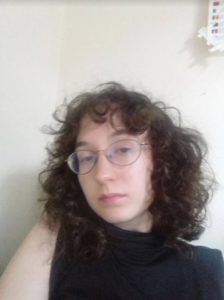 Kiah Endelman Music is an Artist/ Writer based in Glasgow, who works within a performative practice of writing which attempts to find an elusive history of sensation in the spaces; between art and writing, matter and thought, between bodies and the spaces they inhabit. It is a practice in seeing what might appear (possible) if this thing and that are brought beside into closer proximity, in (to) relation. It is a practice in querying how bodies are shaped, marked, touched, by a gesture, action, and desire, where motifs of color and fragrance, gesture and desire are recurrent, mimetic and essential and texts and works are understood as constant sites of rehearsal.
She is currently completing a Master of Letters in Art Writing at the Glasgow School of Art and is a graduate of Goldsmiths, University of London. She has undertaken a residency at the Artists Research Lab, Fondazione Antonio Ratti, and her writing has been featured in MARTHA journal and The Yellow Paper, exhibited at Rye Wax, CCA Glasgow and performed at The Poetry Club, The Glasgow Women's Library and The Deptford Project.
Kiah has made her residence in Can Serrat during the month of January 2020.