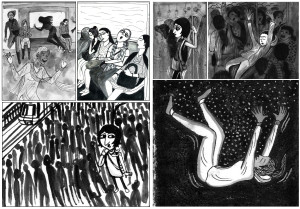 Kavita Singh Kale's background as an artist, film designer, children's book author and illustrator enables her to draw a thin line between- design fallowing functionality versus pure self-expression. This temperament has evolved her as a Transmedia Artist. She works in a variety of media including installations, sculptures, book art, paintings, and videos.
Traveling drives her thought process. People around- strangers, acquaintance, family, and friends are the building blocks for her narratives. Being a part of new cultures, meeting new people and learning about them and translating it into visual stories is what interests Kavita.
While in Can Serrat, Kavita will be interested in developing a couple of comic zines based on the stories she will encounter in El Bruc as well as in Barcelona city.
////  https://www.behance.net/kavitasinghkale , https://www.instagram.com/kavitasinghkale/ , http://kavitasinghkale.blogspot.com/     ////
About her process while into the residency >>>