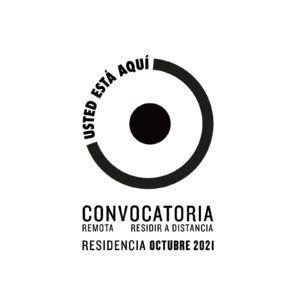 OPEN CALL 
Call Opens:          Monday 21 of June 2021
Call Closes:          Friday 16 of July 2021  Friday, July 23, 2021
5:00 pm COL                         
0:00 hours ESP.                     
Announcement of results: Wednesday 4 of August 2021
Residency Dates: October 1-29, 2021
*subject to change
What is REMOTA?
REMOTA residing at a distance is an online residency for artistic and writing practices.  Through this virtual space, the program seeks to transcend borders by bringing together a diverse group of creators who will enrich one anothers' processes by offering different perspectives and strengthening and expanding one anothers' cultural networks. The selection process aims for inclusivity and will consider a range of creative practices, places of origin, ages, and genders.
The residency will run for one month, in which the residents will share their work, projects, and creative process in a series of online sessions.  Residents are encouraged to work individually on their respective projects for the duration of the residency and can expect regular support and input from the REMOTA residing at a distance team.  The team will also suggest various digital tools for individual or collective experimentation and platforms or files for sharing their works and for building a library of references.  Throughout the residency, there will be various channels of open and ongoing communication among participants as well as between the residents and the REMOTA team to maintain the thread of discussion.
Activities:
1. Welcome and projects overview: Welcome, introduction to the residency, and individual presentations. (Each resident will have 15 minutes to briefly share the topic of their project).
2. Project presentation: The group is divided into two or three groups and each resident makes a detailed presentation of their project. Other residents can decide which presentations they want to attend.
3. Individual Sessions: The REMOTA team will meet individually with each resident to discuss the projects they have proposed and will be working on throughout the month, address questions that may arise and offer support and resources in accordance with residents' needs and interests.
4. Resident's Time: We are proposing this optional meeting as a space in which residents will have the opportunity to socialize, speak about past projects, and to get to know one another better.  (The REMOTA team will not be present for this session).
5. Progress of projects and work plans: Participants will be divided into smaller groups according to common themes and interests.  The residents as well as the REMOTA team will actively participate in the presentations by asking questions, suggesting references, or debating over some of the shared topics. 
6. Xerrem/ tea time /diálogo: A dialogue is carried out with guests who have already made their own residency with Remota and in relation to the themes of the individual presentations.
7. Final presentation of progress: Each resident presents the progress of their process and final reflections.
CALENDAR OF REMOTA OCTOBER 2021* :
OCTOBER 2021
Monday
Tuesday
Wednesday
 Thursday  
Friday
 
1

9 am – 11 pm COL

4 pm -6 pm ESP

WELCOME
PROJECTS OVERVIEW


                2 horas

4
5
6
7
8

9 am – 11 pm COL

9 am – 11 pm COL

9 am – 11 pm COL

9 am – 11 pm COL

4 pm -6 pm ESP

4 pm -6 pm ESP

4 pm -6 pm ESP

4 pm -6 pm ESP

PROJECT PRESENTATIONS 




1/3 GROUP

2 hours

PROJECT PRESENTATIONS 




1/3 GROUP

2 hours

PROJECT PRESENTATIONS 




1/3 GROU

P

2 hours

INDIVIDUAL SESSIONS

[2 x hours to be defined with each resident this week]

INDIVIDUAL

11
12
13
14
15

9 am – 11 pm COL

 

9 am – 11 pm COL

9 am – 11 pm COL

9 am – 11 pm COL

4 pm -6 pm ESP

4 pm -6 pm ESP

4 pm -6 pm ESP

INDIVIDUAL SESSIONS

[2 x hours to be defined with each resident this week]

INDIVIDUAL

INDIVIDUAL SESSIONS

[2 x hours to be defined with each resident this week]

INDIVIDUAL

INDIVIDUAL SESSIONS

[2 x hours to be defined with each resident this week]

INDIVIDUAL

RESIDENT'S TIME
OPTIONAL
GROUP

18
19
20
21
22

9 am – 11 pm COL

9 am – 11 pm COL

4 pm -6 pm ESP

4 pm -6 pm ESP

PROGRESS OF PROJECTS AND WORK PLANS 




1/2 group




PROGRESS OF PROJECTS AND WORK PLANS 




1/2 group

25
26
27
28
29

9 am – 11 pm COL

9 am – 11 pm COL

9 am – 11 pm COL

4 pm -6 pm ESP

4 pm -6 pm ESP

4 pm -6 pm ESP

XERREM/ TEA TIME / DIÁLOGO




GROUP

FINAL PRESENTATION OF PROGRESS

GROUP

FINAL PRESENTATION OF PROGRESS

GROUP
* Depending on the number of residents, some sessions presented in the schedule may vary.
Who is the program for?
This program was developed for creators who have time to devote to their practice and who are unable to travel (due to current restrictions on movement, lack of time for exclusive dedication on their projects, or due to work or family commitments, etc.)
Terms of the Open Call
The jury will select 10 applications to participate in the program, one of which will awarded a full grant and nine partial grants*.  Applications and/or writing samples may be submitted in Spanish, although the online group sessions will be held in English. 
Cost of the residency with out grants: 520 € — $2.250.00,00 COP
SCHOLARSHIPS
The jury will select 10 proposals to be part of the remota residency program.
The breakdown of scholarships and invitations will be as follows:
1 full scholarship
1 scholarship of 70%
1 scholarship of 50%
7 scholarships of 30%
How to Apply
-Fill out the FORM with your information.
Required documents:
A PDF document called: "last name_Remota_call_Octubre2021"
This document should include, in the following order:
A brief biography.

An artist or writer's statement (a brief summary of your work, topics of research and interests, references and/or information about your current field of research, interest and intention to be part of REMOTA residency program)

Examples of your recent work (maximum 3 pages for writers and maximum 5 pages for visual artists accompanied by a brief description of up to 5 sentences per image if necessary.)

Description of and plan for the project you will be working on during the residency (whether already in progress or if proposing a new one.)

A recording of your voice/video/multimedia* to accompany your work samples.  Include a link embedded in your .PDF so that we can access it from your application.  

Your CV
please note: The application can be in Spanish or English.  Applications that do not follow the above specifications will NOT be considered.
*only applicable to writers (please include recording of your work being read aloud) and artists working with sound.
Residents agree to:
-Accept the terms of the open call 
-Confirm their participation on the scheduled dates (it is not possible to postpone)
-To participate in the presentations and discussions organized throughout the residency
-Authorize the use of documentation for informational purposes, sharing and publishing on social networks, and for creating an archive of the residency and its related activities
The results will be published on the following websites: www.guionbajo.org/REMOTA and http://canserrat.org/remota-open-call-results and we will notify everyone who has been selected by email.  
Upon being accepted, the participant will have up to seven (7) days to respond.  In the event that someone is unable to participate in the residency, we will contact those on the waitlist.
questions: remota2020@gmail.com
Jury and REMOTA's team:
Sophie Blais. Director of Can Serrat
Sophie studied visual arts at the University of Strasbourg, photography at the ICART-Photo School in Paris, and completed her studies with a master's degree in film and photography at Louis Lumière University in Lyon, followed by a specialization in cultural management and mediation. 
She has been working in the field of contemporary art and visual arts for 10 years.  Past experience includes positions at the Nicephore Niepce Museum (Chalon-sur-Saône, France), National Scene LUX (Valence), RIP and Le Creux de l'Enfer (Thiers, Francia).
Since 2015, she has been working as the Director of Can Serrat, an international art and literature residency program.  While coordinating this project, Sophie has participated in several residency juries, exhibitions, conferences, and publications, including at the Ohio Art League with Columbus College of Art & Design, the University of Barcelona for the 'On Mediation' program, and has written publications for ''Yucca magazine' and 'Le Crabe,' ' Leopardskinandlimes'.
Sarah Goodchild Robb. Artist Coordinator at Can Serrat
MFA in Studio Practice from The City College of New York, CUNY (2014) and her BA in Art History and French Bard College at Simon's Rock (2006).  Since 2016, she has been working at Can Serrat international art and literature residency, coordinating resident activities and communication.  Along with visual artist Maria Kim she co-founded and was an active core member of MODS (2017-2018), a nomadic and international creative initiative, which she continues to participate in as a member.  She has completed residencies at MODS (Virtual Lab) (2020), Can Serrat (2015), and Picture Berlin (2013) and she organized a group exhibition at Academic, a gallery that was based in Long Island City, NYC, entitled Fragments of Space (2015).
Paola Caballero Daza. Cultural manager, writer and director of g_b.
B.A. in literature from Los Andes University in Bogotá and M.A in Asian and African Studies from El Colegio de México. She has 15 years of experience working in public and private institutions related with culture and literature. She has coordinated various projects such as the award  Premio Hispanoamericano de Cuento Gabriel García Márquez in the National Library of Colombia. Paola has participated as a juror for different awards, grants and for district and national competitions, and has published chronicles, stories and other writings, including Voy y vengo with El Peregrino Ediciones.
Invited jury members:
Lucero Medina Hú. Assistant professor at the Faculty of Performing Arts (PUCP). Artist and performing arts researcher on issues related to the body, memory and the archive and its relationship to writing in the expanded field. Bachelor in Performing Arts and a Masters in Hispanic American Literature (PUCP). She won the second prize in the contest "Ponemos tu obra en escena" (2007) of the A. C. Peruvian-British Peruvian Association with her play El arca de Noé. She has participated in international workshops with Malayerba (Ecuador), the VII and IX Hemispheric Encounters of Performance and Politics at New York University, and the courses Theater and Memory, and Autofictions (Universidad del Pacífico and Goethe Institut). She has also completed the Diplomado en escrituras expandidas: lenguaje, ciencia y arte, with Cátedra extraordinaria José Emilio Pacheco (UNAM- Mexico), the Taller de Cine y autobiografía del colectivo Mujeres y autobiografía (Chile) and the workshop Malvada Cyborg (Cátedra Rosario Castellanos de Arte y Género UNAM). Her works include: Son del viento (2004), Diana desempleada (2005), Extraño camino hacia mi voz (2013), Carguyoq- Investigación acción escénica (premiere 2018 and participated in FAE in 2020), Discurso de Promoción (2017) by Grupo Cultural Yuyachkani, as assistant director, and El apellido comienza conmigo, by Chaska Mori (2019) where she collaborated as an artistic advisor. Currently, she is the coordinator of the Especialidad de Creación y Producción Escénica de la Facultad de Artes Escénicas (PUCP) and is a member of La Terminal Colectivo with whom she develops Pata de león, a scenic documentary project series that investigates Chinese immigration in Peru from the perspective of the culinary memory of their descendants, and which was the winner of the Estímulos Económicos del Ministerio de Cultura de Perú in 2020.
*****************************************