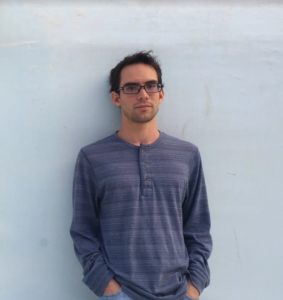 Busco crear con la dimensión política de los espacios y situaciones. Con el potencial que ofrecen los cuerpos ocultos y la memoria. Me pregunto qué queremos recordar. ¿Cómo pensamos el futuro? ¿Cómo activamos algo en el otro? ¿A través del placer y el dolor, por ejemplo?
Mi mayor statement para crear siguen siendo muchas preguntas. Una larga lista de preguntas. Una manía de llevar diarios. Un desvelo. Un poco de miedo también. Y mucho riesgo.
¿Cómo hacemos lo que hacemos y seguimos vivos? Creo en la radicalización de un pensamiento como la radicalización de una pasión.
Desde abril de 2018 esta frase de "Acuario" me ha acompañad: no somos las cosas que tenemos, sino las cosas que nos faltan.
Ricardo Sarmiento Ramírez. 1994. Cuba.
Sus textos atraviesan la construcción de la identidad, la emigración, y el activismo. Su trabajo audiovisual ha sido mostrado en diferentes festivales de arte contemporáneo alrededor del mundo como el Miami New Media Festival (EEUU), el VII Festival de Videoarte de Buenos Aires (Argentina), Muestra Iberoamericana de Cortometrajes de Frankfurt (Alemania) y la exposición América Late: 25 años en perspectiva (Casa de América, Madrid).
Miembro del Fórum Internacional en el marco del Theatertreffen 2018 (Berlín) y la residencia "watch&talk" (Zürcher Theater Spektakel 2019). Artista invitado a las bienales PerfoArtNet (Bogotá) y "Nunca fuimos Nada" (México) 2019. Becario de Panorama Sur 2017, seminario intensivo para dramaturgos en Buenos Aires. Sus proyectos más recientes son Acuario, Diarios del miedo y la colaboración con Stefan Kaegi (Rimini Protokoll) para Granma. Trombones de La Habana.
Ricardo has made his residence in Can Serrat during the month of April 2020.