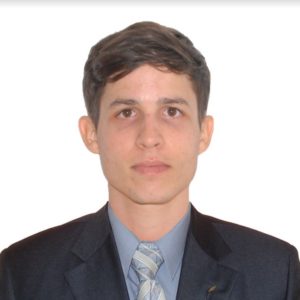 Yoandry Cáceres Rivero
Artist of the plastic. Cartoonist and painter.
He was born on September 5, 1992. He grew up in Vieja Bermeja, a town belonging to the Unión de Reyes municipality, in the province of Matanzas, Cuba. He draws and paints from a very young age, but his technical and professional training, within the broad field of Visual Arts, began in 2004, at the age of 11, for three consecutive years he received particular academic lessons in the artist's workshop Lisaida Engracia Lamar Martínez, who was her professor of Plastic Arts and Art History until she entered art school. In 2007, he began studying at the Middle Level at the "René Fraga Moreno" Pedagogical School in the city of Matanzas. He graduated from this center in 2011, with the title of "Bachelor in Humanities and Art Instructor, specialty Plastic Arts", turning out to be the most comprehensive student of his specialty. In 2012 he began his Higher Level studies at the Faculty of Pedagogical Sciences of the University of Matanzas "Camilo Cienfuegos", graduated in 2016 with the title of "Bachelor of Education, Specialty Instructor of Art." In 2014 he was elected a member of the Saiz Brothers Association of his province, an organization that supported his first personal exhibition "Retractus", in his hometown, held in 2013. In 2014 he graduated from "English Language" in the School of Languages ​​"Federico Engels" of the city of Matanzas. He has taught Plastic Arts (Appreciation and Creation) workshops at the "Abel Santamaría" Basic High School in the town of San Antonio de Cabeza and at the "Eufemio Álvarez Guevara" Mixed Center in his town. He has made several collective and personal exhibitions and his work are in collections of several institutions in Havana. For his creative work he has won numerous awards in national and provincial competitions and his work has been published by different national and international media, an example of this is the foreign magazine "Más Cuba" in the November 2015 edition, with the article "The Magic of his Portraits", by the prestigious journalist Ana Llerena Martín. His life and work can also be found in the EcuRed: the Cuban encyclopedia, (EcuRed.cu/ Yoandry Cáceres).
//// www.yoandrycaceres.com ////
Resident in Can Serrat from the 2 until the 23/09/2019