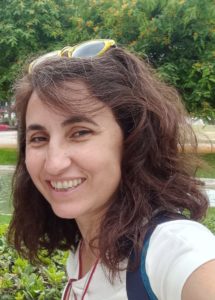 LETICIA ROLDÁN. Writer and Literature teacher. She studied Creative Writing at the Universidad de Tres Febrero, directed by María Negroni. She has participated in several workshops with Anahí Mallol, Claudia Masin, Patricia Ratto, Natalia Litvinova, Mariana Mazover and Ana María Shua. She published En cada sombra (editorial Imaginante, 2012).
Her work reflects on the projections of the body in relation to writing, the shadows of feeling and the sense of vitality. In these crossings, she also works as a therapist in traditional Thai massage.
She lives in Tres Arroyos, where she gives literary workshops and organizes cultural meetings. Her stay at Can Serrat will make it possible to work around the links between the poetic voice, the desired/destined landscapes and the displacements they propitiate.
Leticia will be in residence at Can Serrat during the month of July 2022.