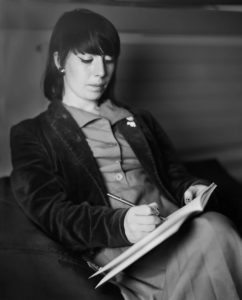 Iris Priest is an artist, writer, and co-founder of the arts magazine CANNED. She has written extensively on issues of collaboration, consciousness and the interdisciplinary zone of human creativity.
Iris was Writer in Residence for Corridor 8 at Castlefield Gallery, Manchester (2017) and recent publications include; "Matt Antoniak: The Revolution Will Not Be Shit Painting" (Workplace Gallery, 2019); "Dissenting Voices, Disobedient Gestures" (Jerwood Arts, 2019); "Time Beguiled" (Hole Editions, 2018); and "Unknown Lands" (Hole Editions, 2017).
Iris is a studio holder at The NewBridge Project in Newcastle upon Tyne and is currently working with the arts organization Wunderbar on the upcoming project "Edicures".
Iris has made her residence in Can Serrat during the month of February 2020.