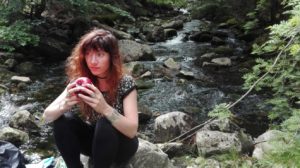 I work through writing, performance, and sculpture to focus on how humans construct meaning, particularly from a female perspective. I am especially interested in how we perform as "viewer" observing unwritten rules for audience engagement, and how these opaque methods of interaction have changed as a more diverse range of voices are permitted to speak and be heard.
My creative process begins with writing, spending time observing and drawing from my surroundings. I engage in historical research and conduct in-situ interviews to develop an empathetic understanding of site and context. As my writing develops it becomes the catalyst that transforms my observations into a language-based, performative, photographic or artwork. My pieces are mostly site-specific and use humor as a means to illuminate dissensus.
I am currently pursuing a practice-based Ph.D. in the Arts at KU Leuven, investigating "the act of experiencing an artwork" and creating new terminology to redefine the process by which we engage with an artwork, undone from the patriarchal legacy of 20th-century spectatorship. My research is currently focused on capability as a viewer, and the interpretive gap between my intentions as an artist and your interpretations as a viewer.
Recent exhibitions and performances include: 'control,' Max Planck Institute for empirical Aesthetics, Frankfurt, Germany, 2019, 'pirouette,' the Hugh lane Municipal Art Gallery, Dublin, Ireland, 2019,