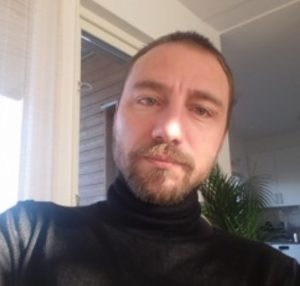 Rodrigo Nicolas Albornoz (1977) is a visual artist from Argentina who is living and working in Europe. With Master in Fine Arts at Konstfack University College of Arts, Craft and Design in Stockholm city and with Bachelor in Fine Arts at the Gerrit Rietveld Academy of Amsterdam.
It is present in his work the role of the memory, history, emigration, ideology and personal memories, which provides the insights of his praxis.
His recent work reflects on new identities within socio-cultural situations in the Globalized World of nowadays. Touching topics of post-colonialism, social media, digitalization, human labor, and social injustices.
He uses different kind of media -timebase material- including sound, video, performance, sculptural objects, and archives, combining them in various installations.
Exploring the means of movement, transition, displacement, change, impermanent and invisible. His audio-visual language is fresh, honest and spontaneous, with emphasis on those details that provoke curiosity and a question mark. Touching the boundaries between reality-fiction.
His work has been display in important museums, galleries, fairs and festivals in The Netherlands, Germany, Italy, Sweden, Lithuania, New York, United Kingdom, Colombia, Argentina, Chile, among others.
Resident at Can Serrat from the 11/11 – 2/12/2019